Ophthalmic Slit Lamp Microscope (AMYZ-5S)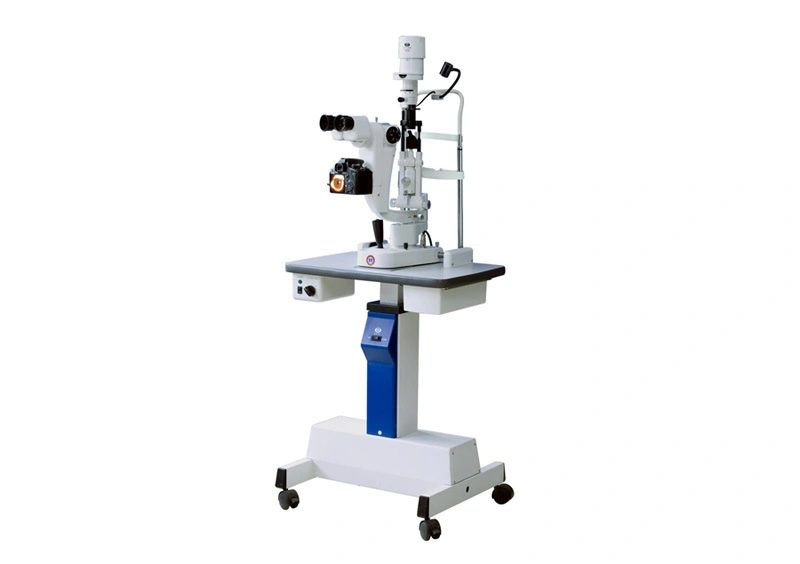 The product can easily capture sharp digital photos of the cornea, sclera, anterior chamber, iris, lens, retina and so on.
Detailed profile
Characteristics:
· Single Lens Reflex, which is used as the professional image collecting medium, is the best choice for the ophthalmic shooting for its sensitive capture to the light and colour and the complete adjusting functions.
· Real time dynamic display. The camera could capture clearer images benefiting from the examination process is displayed on the 3 inches LCD at the real time.
· 18 megapixels could clearly provide all the details and meet the harsh requirement to the image.
· Special designed background illumination
· Photo easily taken by the button on the joystick
· Patient's information,examining records and pictures of sicking part can be reserved by setting the data base.
· To measure and mark the sicking part and print the complete case report.
· Galilean stereoscopic microscope provides the practitioners great third dimension and large-angle observation.
· Imported Schott optics from Germany reduces optical distortion, increases clarity and depth of focus.
· All the optical lens are moistureproof, mildewproof and anti-reflected treated.
· Osram bulb provides the low heating, high brightness and even lighting.
· The slit lamp could not only clearly observe the ocular surface and anterior segment, but also the posterior lens capsule, and even film the fundus nidus with the help of the pre-set lens.
Basic Specifications:

Microscope Type

Galilean stereoscopic microscope

Objective Magnification

Five-step Drum Magnification

Eye Piece

12.5X

Magnifications
(Field of View)

6 x (Æ33mm) 10x(Æ22.5mm) 16x (Æ14mm) 25´ (Æ8.8mm) 40´(Æ5.5mm)

Pupil Distance

45 mm~75 mm

Diopter Adjustment

-5D~+3D

Slit Width

0mm~14mm adjustable(slit is round when the slit width is14mm)

Slit Height

1mm~14mm adjustable

Diameter of Light Spot

φ14mm,φ10mm,φ5mm,φ2mm,φ1mm,φ0.2mm

Slit Angle

0°~180° adjustable

Slit Inclination

5°,10°,15°,20°

Filter

Heat Absorption, Grey, Red Free, Cobalt Blue

Illumination Bulb

12v30w Halogen Bulb

Collecting Medium

Digital Single Lens Reflex

Illumination Type of Taking Picture

Background Illumination

Input Voltage

AC220V±22 V;AC110V±11 V

Electrical Safety Standard

Executive Standard IEC601-1,Class I,Type B

Optional Accessories

Applanation Tonometer,Measuring Eye Piece ,Trihedron lens,Gonioscope,Funduscope,Aspheric Lens
Special Specifications:
| | | |
| --- | --- | --- |
| Model | AMYZ-5S | AMYZ-5T |
| Dynamic Display | LCD Screen Real-time Dynamic Display | LCD and Computer Screen Real-time Dynamic Display |
| Table | AMYT-2A | AMYT-2GA |
| Packing Volume | 720mm´495mm´480mm | 720mm´495mm´480mm |
| Total Weight | 24Kg(Table Not Included) | 24Kg(Table, Tabletop and Computer Not Included) |
| Processing Function | None | Length, Angle, AreaMeasuring, Arrowhead, Word Adding, Image processing. |