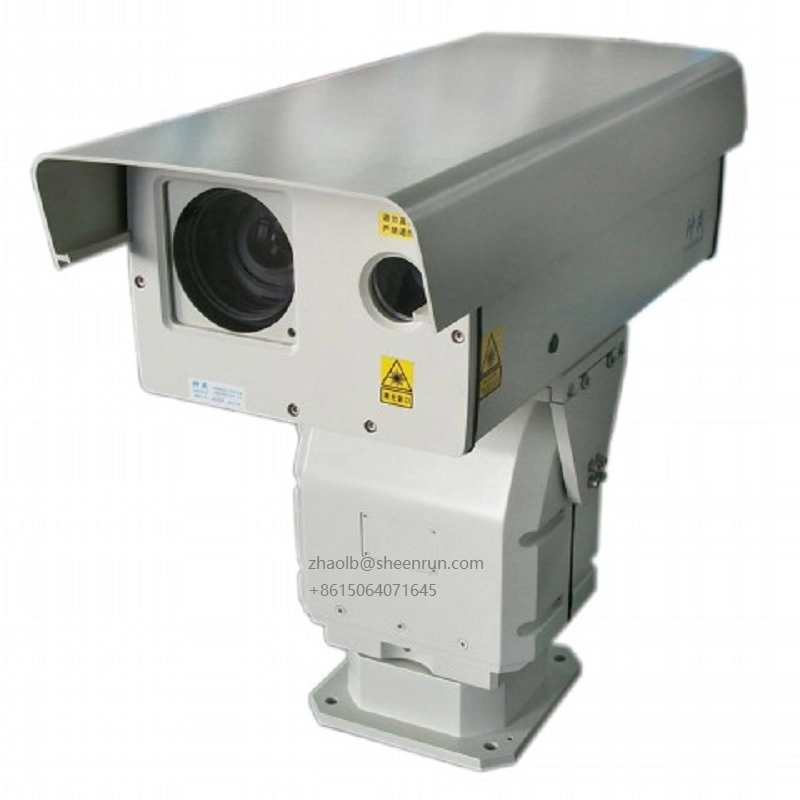 1 Product Features
1. Synchronous zooming laser illuminating system, long illuminating distance, large illuminating range, realizing monitoring in 0Lux complete black
2. Day and night low illuminance 2 megapixels color to black camera, day and night continuous monitoring
3. MCIC multi-tube core fusion mixed mode light homogenization technology, no speckle and dark ring, high edge definition
4. Supporting fog penetration, backlight compensation, multistage wide dynamic
5. Optional auto focusing function, realizing multiple focusing mode and triggering mode
6. Supporting camera back focal length fine adjustment technology and camera remote debugging
7. Supporting long focal length speed limit and 3D locating function
8. Abundant network protocol and good network applicability, adapting all kinds of network environment
9. External MMA fine adjustment mechanism, no need to disassemble to complete laser alignment adjustment
10. Professionally designed shell, artistic, light, firm, anti-high temp, anti-corrosion, water proof, anti-acid rain
2 Specification
Monitoring distance

Night vision

1000meters

Day vision

2000meters

Imaging lens

Focal length

10~320mm

FOV

1.2°~36.8°

Auto focusing

supporting(optional)

Fog penetration

supporting(optional)

Camera

Sensor type

1/1.8"Progressive Scan CMOS

Coding mode

H.264/MPEG4/MJPEG

Video resolution

1080P,CIF,supporting three stream

Video bit rate

32Kbps~16Mbps

Video frame rate

1~25F/S(50Hz),1~30F/S(60Hz)

Illuminator

Illuminating lens

60* zooming laser telephoto lens

Power

8W

Wave length

810nm

Illuminating angle

0.5°~30°continuous changing

Light homogenization

multi-tube core fusion mixed mode light homogenization technology

Shield

Material

Precise casting aluminum alloy

Window glass

4mm crystallite super white optical glass

Pan-tilt

Carrying capacity

22kg(top load)

Angle

Horizontal 360°continuous rotation,pitching -60°~+20°

Speed

Horizontal 0.1°~9°/s,pitching 0.1°~4°/s

Preset bits

255 bits,supporting lens zooming and focusing memory,8 cruising paths

Auto cruising

8 paths,10 preset bits each path

Anti-lightning

2000V

Interface

Power supply interface

AC24V

Network interface

1×10Base-T/100Base-TX,RJ45

Environment indicators

Working temp

-25ºC~+55ºC

Storage temp

-40ºC~+65ºC

Protection grade

IP66

Power supply

Whole machine power supply

AC24V±10%,appendant AC220V~AC24V/5A water proof power supply

Whole machine power consumption

≤80W

Physical features

Weight

25kg

Installation method

outdoor pedestal mounting
3 Our Services
(1) We generally offer one year warranty. Extended warranty is also available.
(2) Life-long technical support. Professional technical team and salesperson help you with troubleshooting procedures any time when needed.
(3) We accept OEM.
(4) We offer customized product.
4 Company Introduction
China Sheenrun Optics & Electronics Co., Ltd, which was founded in 2004, is a leading night vision equipment and rugged information equipment supplier, as well as a relying construction company of Shandong Province Academician Workstation and Night Vision Surveillance Engineering Technology Research Center. Sheenrun adheres to independent innovation, developed the world's first laser night vision camera and the first uncooled continuous zoom infrared thermal imaging camera with independent intellectual property rights, its synchronous zoom laser night vision technology and continuous zoom thermal imaging technology have reached international advanced standard level, possess the world's largest market share in laser night vision market.

Sheenrun's laser night vision and infrared thermal imaging products have been widely used in national defense, safe cities, railways, highways, forest fire, oil and other fields, achieved all-weather surveillance, provided technical support for the maintenance of national security and social stability. Sheenrun's rugged information equipment have been widely used in land, sea, air, the Second Artillery Corps, armed police and other branches of the military, greatly promoted the national defense information technology. In addition to domestic market, the company's products have been exported to more than 40 countries and regions all over the world.

Sheenrun always adheres to "military technology for civilian use " and "joint development of military products and civilian products" strategy, mastered the key technology in optics and rugged computer field, possess complete qualification for research and production of military equipment, directed or participated in a number of military research and production tasks.

Sheenrun insists on the belief "growing up with customers and employees" and ready to make more contribution to national defense and public security.