Optic Ophthalmic Slit Lamp Microscope (AMYZ-5F)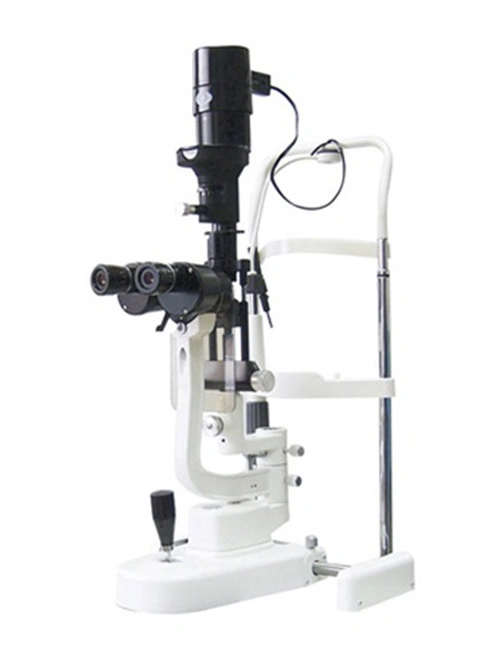 Characteristics:
- Converging stereoscope microscope provides the clear images.
- Imported Schott optics from Germany reduces optical distortion, increases clarity and depth of focus.
- All the optical lenses are moistureproof, mildewproof and anti-reflected treated.
- Three-step magnifications (10X\16X, 25.6X) can be changed by lever and 10X&16X eyepieces are available.
- All the joints can be connected by accessories with international standards.
Microscope Type
Converging stereoscope microscope
Objective Magnification
Two Steps Magnifications
Eyepiece
10x and 16x
Magnifications
(Field of View)
10x(φ 18mm), 16x(φ 14.5mm)
16x(φ 11.25mm), 25.6x(φ 9mm)
Pupil Distance
10x Eye Piece 55mm~82mm
16x Eye Piece 51mm~78mm
Diopter Adjustment
10x Eye Piece ± 8D
16x Eye Piece ± 10D
Slit Width
0mm~9mm adjustable(Slit is round when the slit width is 9mm)
Slit Height
1mm~8mm adjustable
Slit Angle
0° ~180° adjustable
Slit Inclination
5° , 10° , 15° , 20° , four steps adjustable
Diameter of Light Spot
φ 9mm, φ 8mm, φ 5mm, φ 3mm, φ 2mm, φ 1mm, φ 0.2mm
Filter
Heat Absorption, Grey, Redfree, Cobalt Blue
Illumination Bulb
12V/30W Halogen Bulb
Input Voltage
AC220V± 22 V, AC110V± 11 V
Electrical Safety Standard
Executive Standard: IEC601-1, Class I, Type B
Packing Volume
720mm x 495mm x 480mm
Total Weight
24Kg
Optional Accessories
R type, T type Applanation Tonometer, Measuring Eye Piece, Trihedron Lens, Gonioscope, Funduscope, Aspheric Lens