Designed for ophthalmic surgery procedures. The drape is made of SMS or laminated fabric (2-layers or 3-layers nonwoven fabric) depending on requirements.
Benefits
1. With oval aperture;
2. With reinforced materials at the operative site;
3. Safe barrier function against liquid and bacterial penetration;
4. Ensure easier aseptic transfer and quicker set-up time.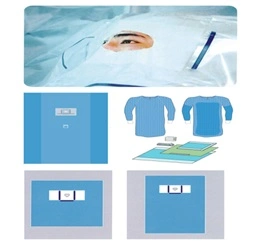 REF NO.

1506.01

Description

Component

size

quantity

Surgical Gown

L

2

Hand Towel

30x40cm

4

Mayo Stand Cover

59*141cm

1

Ophthalmologic Drape

120*160cm

1

Surgical Drape

110*160cm

1

Surgical Drape

40*70cm

4

Table Cover

120*140cm

1

Material and size can be customized upon requests