Disposable Nebulizer Kits with Tee Tubing Mouthpiece and Cup
1. Be made of medical PVC;
2. DEHP free is available;
3. CE, ISO 13485 approved.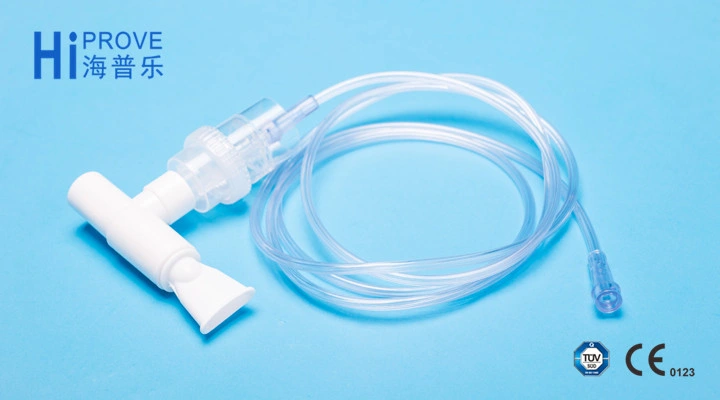 Brief Introduction:
Nebulizer kits are devices that are used to administer medication to people in the form of a mist inhaled into the lungs. The nebulizers are connected by tubing to a compressor, that causes compressed air or oxygen to blast at high velocity through a liquid medicine to turn it into an aerosol, which is then inhaled by the patient, and the medicine in the form of a liquid solution is loaded into the device upon use. The nebulizers are commonly used for patients in hospitals who have difficulty using inhalers, such as in serious cases of respiratory disease, or severe asthma attacks, it is also for ease of use with young children or the elderly.
Features:
Made of Medical grade PVC
Used with any of the compressor/nebulizer for treatment of asthmatic patients.
Designed for comfortable administration of fine mists of uniform density to reach deep into lung cavity.
Simple three -piece design is easy to assemble and clean.
Break-resistant plastic provides the patient with 14 days of use with or without 15cm corrugated tube
With 2m tubing
With T-piece and mouthpiece
Packed in individual PE bag

How to use:
1.Place the prescribed medication into the nebulizer jar.
2.Carefully snap the lid over the jar.
3.Connect one end of the supply tubing to the small stem at the bottom of the nebulizer.
4.Attach the nebulizer to the mask inlet or Tee-piece & Mouth piece.
5.Connect the remaining end of the supply tubing to the desired pressure source.
6.Set oxygen flow to 5-6LPM and check for flow through the device.