Slit Lamp with Image Capturing and Analysis System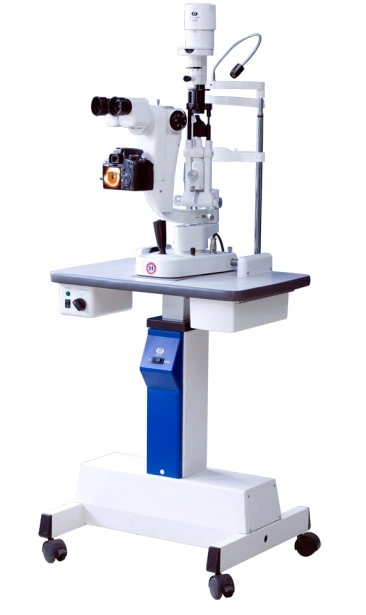 5 steps with deluxe Side Table

Model: YZ5S
CE and FDA
Best quality

The Slit Lamp image processing system is not only a working platform for ophthalmic diagnosis, But also a case database. It can easily capture digital photos of the cornea, sclera, anterior chamber, Iris, lens, retina and set up patients files and manage them effectively.



Characteristics:


What doctors see from eyepieces is showed synchronously on monitor, which is very Convenient for doctors to capture the best and clearest pictures by Joystick.
Photos taken by the 18 megapixel Canon or Nikon DSLR camera.
Background illumination specifically designed for darkroom environment.
Used for establishing the full data of patients, and images post-processing
Honored "China Top Brand "for its excellent optics.
Specifications:

Microscope Type

Galilean stereoscopic microscope

Magnification

Five-step drum magnifications

Eyepiece

12.5X

Magnification Ratio(Field of View)

6 x (Ø33) 10x(Ø22.5) 16x (Ø14) 25x (Ø8.8) 40x (Ø5.5)

Range of Pupil Distance

45 mm ~75 mm

Adjustment of Diopter

-5D ~+3D

Slit Width

0mm~14mm adjustable(slit is round when the slit width is 14mm)

Slit Height

1mm~14mm adjustable

Aperture Diameter

φ14mm, φ10mm, φ5mm, φ2mm, φ1mm, φ0.2mm

Slit Angle

0°~180° adjustable

Slit Inclination

5°, 10°, 15°, 20°

Filter

heat absorption, grey, redfree, cobalt blue

Illumination Bulb

12v30w Halogen Bulb

Maxial Illuminance

≥280000 Lx

Preceding Mirror

-58.7D

Collection Medium

DSLR Camera

Illuminations Type of Filming

Background Light

Input Voltage

AC220V±22 V; AC110V±11 V